My own personal version of Rampart Social Centre would be that it was born, together with many other squats in 2004, out of the need to house hundreds of attendants to he European Social Forum and adjacent alternatives.
The meetings for the preparation of said forum did acknowledge the need, and the problem of accommodating such a big number of people in the most expensive city in the UK, probably Europe.
But the possibility of housing them in squats was mercilessly laughed at in the ESF meetings.
Regardless, tens of anarchist and otherwise active activists set on occupying as many empty building as possible, as big and stable as possible. All the buildings squatted as a result had been empty for a very long time, left to rot by owners and developers in their speculation activities, because usually the hard bare land was higher market value than a whole building, especially if "too many" repairs are needed and the planning permission for demolition and new development had been granted.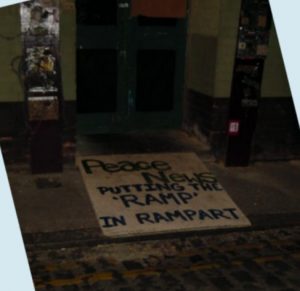 The ESF was a success, and thousands of attendees were accommodated in legitimate and lawful accommodation while only a few hundred stayed in squats like Rampart. But it remains regarded today as an unreported odyssey, that with practically no owner resources, a whole non-hierarchical organisation managed to create accommodation for so many people for over a week.

The media never knew, or reported about this; it only focused over the money than the then London mayor was spending in the events and accommodating 'lefties' from all over europe.

Same as speculation and what it does to buildings and communities does not get reported.

In London's most 'desirable' areas, buildings are left empty for years, roofs smashed to accelerate their decay, some times squatters gain entry to highlight the madness of having empty buildings and, at the same time, homeless people. They delay the process for two weeks, two months… then get evicted and the owners can continue with the destruction and subsequent sale to other business for more profit because it is their property, and they can do what they please with it.

So squats do not usually stay squatted for very long. The most exciting squat I remember was in Aberdeen Road, in 2001. Friend called ##ohf6Kie## talked about it thus: "I am amazed it is still there running, after two months. We are most used to one week, two weeks. We were all over the moon when Stoke Newington lasted for three weeks. But two months!"

So, three weeks after the end of the ESF, many squats that had been opened for the accommodation of events and punters had been evicted. All but Rampart.

Rampart survived many years and provided space and resources for many good noble social causes, like rooms for meetings, rooms for computers, even a video editing suite, a pirate radio station, and a whole hacklab – a room full of computers, all gathered from dumps and repaired and put back into use for workshops on how to produce documents, books, radio programmes and news … donated or saved from landfills.

They were many years, thanks to a building that, had it not been for the free dedication of a few, admittedly very privileged people, who could afford and chose to dedicate themselves full time to a project that did not make them any money nor friends, instead of working in paid jobs, it would have rotten until falling down in the pursuit of capitalist profit by the owner, who would rather wait for speculation to give them good money rather than let people use it in a context of rampant homelessness. Now it is the home of groups like Bicicology, the hacklab and ours, migrant support.

Every social event or project, has as many versions as people participating in it.